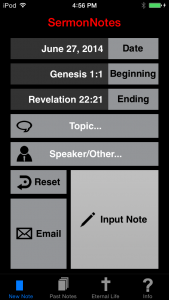 SermonNotes has been updated to version 5.0 and has been released in the App Store.  Existing users should receive this update automatically, unless your apps updates is off at: Settings/iTunes & App Store/Updates.  The full list of this update is here:
• Fixed screen rotation with iOS7 (now controlled by switch on right side of iPad, and screen swipe up on iPhone)
• Fixed keyboard for landscape orientation in iOS7
• Redesigned screen layout to fully use 4" screen on iPhone 5, 5c, 5s, and iPod touch 5th generation
• Increased size of notes area in New Note
• Increased size of notes area while editing Past Notes
• Ensured the latest New Note shows up immediately in list of Past Notes
• Fixed overlapping Guest Speaker icon with long speaker names
• Updated all picker wheels for iOS 7
• Graphics adjustments for iOS 7
• Code improvements for iOS 7
• Updated Info help text, including about exporting the backup file
• Updated the database backup and restore for iOS7
• After you import the backup file, the most recent note now appears on the front screen for convenience; this also prevents overwriting the most recent note in Past Notes.